John James Renaker, Sr.
born March 26, 1915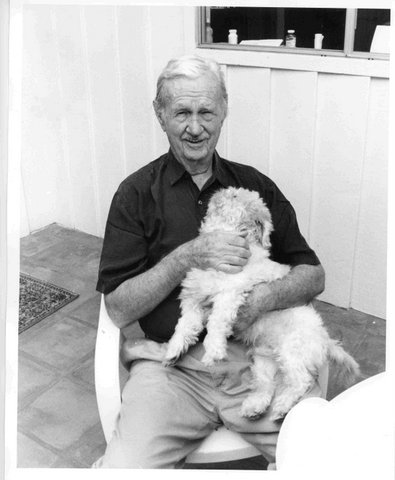 John Renaker with Ford
John James Renaker, Sr., businessman and author, was born March 26, 1915 and died Nov.6, 2014 at home.
A native Californian, John graduated from Monrovia High School and entered Cal Berkeley at 17 where he got his B.A. in English and met his future wife, Maxine Hagen, to whom he was married 66 years (until her death in 2003). Graduating at the depth of the Great Depression, John got a graduate degree in Library Science at UCLA and worked there as a librarian. By the time World War II began, John was the father of three and deferred; he worked as a draftsman at North American Aviation during the war.
When peace was declared in 1945, John and Maxine, with the help of Maxine's father, Ole Hagen, started Hagen-Renaker Potteries. In the nearly 70 years since, Hagen-Renaker has gained a reputation for finely-crafted, miniature ceramic figurines.
In the 1970's, John expanded the business to include a wholesale nursery division, which led him to move to Encinitas, California where he lived for over thirty years.
In the 1980's John began to combine his life long interest in science and politics by writing a book on nuclear deterrence. Inspired by Stanley Kubric's film "Dr.Strangelove" his book Dr.Strangelove and the Hideous Epoch: Deterrence in the Nuclear Age was published in 2000. He went on to write a series of essays on science entitled; Once More Into the Deja Vu: Essays on Ecology which was published in 2006.
John is survived by his four children; John James Renaker Jr., David George Renaker, Susan Renaker Nikas, and Mary Renaker Brazel and his two daughter-in- laws, Freya Renaker and Joyce Renaker and son-in-law, Eric Brazel. In addition John has six grandchildren and nine great grandchildren.
He was blessed in later years to have a dedicated house-keeper/ and care-giver, Carolina Hernandez. And in the last ten years, Lydia Balleza has helped him as a night-time caregiver.
He was beloved by his family and friends and will be sorely missed by all.